11 Celebrity Five Minute Journalers
by Intelligent Change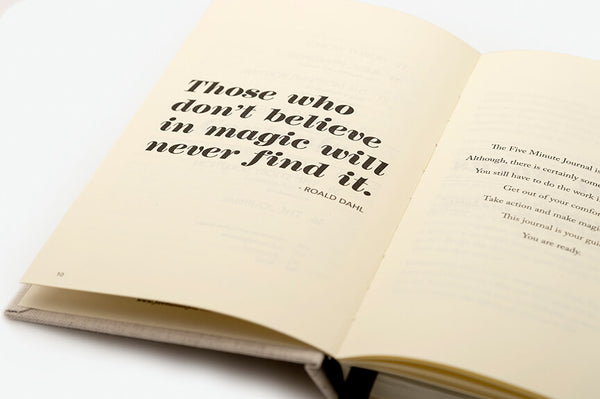 The Five Minute Journal was created as a simple way to practice gratitude, become more positive, and bring focus to your day. It's the journal for those who never considered themselves "journalers" and those who tried multiple journals, but failed to stick with one.
In the midst of a busy life, the following 11 celebrities use The Five Minute Journal to focus on the good in each and every day!
Emma Watson
Instagram: @emmawatson
As co-star of the Harry Potter Franchise and Beauty and the Beast, Emma now splits her time between acting, modeling, fashion, and women's rights work. And despite her busy life, she still manages to find time to practice gratitude.
"I love the idea of starting my day by listing three things I'm grateful for. And going to bed thinking about the three amazing things that happened in the day. I'm a big believer in the transformative practice of gratitude. And right now I'm feeling thankful for The Five Minute Journal." (2)
Instagram: @timferriss
As the author of multiple New York Times best sellers including The 4-Hour Work Week, The 4-Hour Body, and The 4 Hour Chef, and host of 200 million+ downloaded podcast, Tim has a lot going on. As an early adopter of the Five Minute Journal, Tim uses it to bring calm to his very busy days:
"It's easy to obsess over pushing the ball forward as a type-A personality, which leads to being constantly future-focused. If anxiety is a focus on the future, practicing appreciation, even for 2 to 3 minutes, is counter-balancing medicine. The 5MJ forces me to think about what I have, as opposed to what I'm pursuing." (1)
Instagram: @camimendes
Actress of the hit show Riverdale, Camila received a gift from her co-star Madelaine Petsch to help her combat stress, anxiety, and feeling all over the place in a high profile career. Gratitude is now a regular practice in her life.
"@madelame gave me this gem last week when i was feeling stressed and anxious and all over the place, and i had no idea i would love it this much. sometimes i focus way too much on the negative, like many of us do, and too easily i forget to give value to all the amazing things that have happened in my life. there is so much to be grateful for that we should be acknowledging on a daily basis. this career comes with a lot of pressure and stress but i've dedicated my entire life thus far to achieving this goal and i will never take my dream-turned-reality for granted. many more goals to be achieved, but i will never let my ambition interfere with my gratitude. and neither should you! sincerely soft, soft always, yours softly" (3)
Instagram: @anniethorisdottir
Annie is a two time CrossFit Games winner and the 2017 3rd fittest women in the world. Needless to say, being at the top of her game physically and mentally is key. Anníe trains four hours per day, six days per week, and also has experience as a gymnast , ballet dancer, and pole vaulter. Annie gets to the point why she loves our FMJ.
"The 5 Minute Journal gives focus to each day." (4)
Instagram: @patflynn
Over the past decade, entrepreneur Pat Flynn has built a mini media empire with Smart Passive Income, a program which details how to build a passive income business in addition to sharing his thoughts through his blog, podcast, and YouTube channel. Pat is also a busy father of 2 and uses the journal to set the tone for his day.
"As soon as I wake up I think about the amazing things in my life and it primes myself for an amazing day. Right before I go to bed I think about the amazing things that happened and I can get excited to wake up the next day. Adding journaling to my life has been really really cool and something that I thought it was just for teenage girls to write when their boyfriends break up with them, but I really really love it. The Five Minute Journal is great because it guides you and is not just a blank piece of paper." (5)
Instagram: @jennadewan
Starting as a backup dancer for Janet Jackson, Jenna rose to prominence in 2006 as Nora Clark in Step Up. She has continued to dance, model, and act . While she was skeptical at first, Jenna noticed a big difference when she started gratitude journaling.
"I started a gratitude journal where I write every morning and every night things I am grateful for. At first I thought this is kind of cheesy, I'll be honest. I was like how truly is this going to help? But you do notice. It makes a big difference. And it's just 5 minutes out of your day." (6)
Instagram: @bengreenfieldfitness
Voted in 2008 as the Personal Trainer of the Year by the National Strength and Conditioning Association (NSCA) and recognized as the one of the top 100 Most Influential People in Health, Ben Greenfield is a fitness, triathlon, and nutrition expert, and has authored multiple books and DVDs. He also hosts the popular Ben Greenfield Podcast, a top 10 iTunes fitness podcast. Like many, Ben did not think he was a "journal person". He does now, thanks to the FMJ.
"Until I stumbled across The Five Minute Journal, I was never a journal guy, and threw away most of the diaries and journals people gave me. But now I journal almost every day, and it's simple because this book just walks me through the process of journaling by asking me a few easy questions, like "What are 3 things you're grateful for this morning?" or "How could you have made today better? This journal basically combines all the practical elements that can make the difference in your life, and spares you the hours and weeks of moving through dense academic jargon. It's all here. And it's been made easy." (7)
*Ben now uses a similar version of The Five Minute Journal created by him called the Christian Gratitude Journal.
Instagram: @lilmiquela
When we first learned that Lil Miquela was a Five Minute Journaler, we were a bit confused, because technically she isn't real. Beginning in 2016, Trevor McFedries and Sara Decou began her Instagram profile as a digital art project. Since then, the AI robot has racked up over 1.3 million instagram followers blurring the line between reality in social media, spurring the discussion about the the unrealistic perceptions perpetuated on Instagram. She now has become a fashion influencer and musical artist in her own right. And she journals, albeit digitally, via The Five Minute Journal App.
"I start my morning by jotting down everything I'm grateful for and then revisit it at the end of the day." (8)
Instagram: @bretteldredge
Brett Eldredge is a country music singer, songwriter, and music producer. As someone who is constantly traveling, The Five Minute Journal helps keep Brett grounded.
"I've been writing down anything from my experiences to something that's called The Five-Minute Journal, which is a gratitude journal. I do it every morning and every night and it shows you what to be thankful for, and you start your day on a positive note. It asks you questions like, 'What would make the day great?' and I'd write, 'Go on a hike and try to find a view I've never seen before,' and you go with that intention in your mind of going to do that.
At the end of the day, it asks you, 'What made the day great?,' and you'd write down, 'I danced like a goofball on the streets of Key West,' or 'I met a funny character at a bar wearing a cowboy hat, and he told me all the crazy things that happened in his life and we shared stories over a drink. It makes you appreciate the little things. I literally freak out if I forget to pack it, because I feel like I just need it and I'm missing out on telling myself a story." (9)
Instagram: @laurenelizabeth
Lauren is a fashion and beauty YouTube personality known for her channel LoveLaurenElizabeth, where she also opens up to her subscribers about serious issues in her life in hopes of inspiring young ones everywhere. As she is serious about personal growth, Lauren believes The Five Minute Journal should be a required textbook for everyone in the world.
"Actually practicing gratitude and taking time out of your day to do things that society doesn't really teach you to be important are actually some of the most important things in your life. Your emotional health is just as important as your physical health because it if you want to be successful, in love, a good friend, a good daughter, a good sister, a good person, you need to take care of yourself to be the best version of yourself. The Five Minute Journal is something that is so simple and so easy and makes so much sense in your head when you read it." (10)
Instagram: @mimiikonn
When Mimi couldn't find affordable, high quality hair extensions for her wedding, she and her husband-to-be Alex started Luxy Hair. Using YouTube as their main form of communication, Luxy Hair went on to gain millions of followers where Mimi shares weekly tips, tricks, and techniques on how to style hair. Mimi now balances running Luxy Hair, creating inspirational and travel videos. She is mom to the now famous Alexa too. Mimi uses The Five Minute Journal to always remember the good in her hectic life.
"I do The Five Minute Journal when I first wake up and I'm usually half asleep when I'm filling it out but that's the best thing because the positivity goes into your subconscious mind. I love doing The Five Minute Journal because it conditions your mind to think positively and set your day to a really good start. The best part is after I fill mine out, me and Alex share ours together. I think it's a great habit we do that bonds us more as a couple." (11)
*Mimi is a partner in Intelligent Change, makers of The Five Minute Journal