Here are some ideas for expanding your gratitude practice with your child as they grow:

1. Each family member can share three good things that happened that day.
2. Write a good experience down on a piece of paper and put it in the gratitude jar. Open the jar at the end of the year and reflect on the positives of the previous year.
3. Ask your child to think about someone they would like to thank and encourage them to write a letter or draw a picture expressing their gratitude.
4. Talk to your child about how grateful you are for having them in your life. Take a few moments to appreciate your special bond.
Inspiring quotes and inspired customer stories.
Use #intelligentchange for a chance to get featured
Gratitude book that inspires meaningful conversations.

In this book, you will find gratitude prompts to share with your child. You may like to read the book straight through, or pause and talk about the gratitude prompts as you go.
However you choose to use this book, may it remind you of how abundant and magical this world is.
You may be interested in
These best-selling and top-rated tools will help you unleash your full potential and turn your dreams into reality.
Shop best sellers
Some of the lives we have guided toward positive change.
Customer Reviews
Write a Review
Ask a Question
Filter Reviews:
book
daughter
idea
girl
habit
journal
handicap
characters
messages
Alex
03/09/2021
Emmanuelle A.

France
My daughter's first book
A few weeks before our little girl came into our lives, I wanted to buy her first book. A fan of the five minute journal, I immediately liked the idea of sharing this habit of being grateful with her at a young age. I really like the story as well as the illustrations and especially the diversity of the characters represented (multicultural, handicap...). I am happy to share such nice messages with my daughter with the help of this book!
05/09/2021
Intelligent Change
Very grateful to hear your daughter is enjoying her I am Grateful Childrens book! Thank you for your support. Wishing you both a wonderful journey ahead.
02/07/2021
Kameliya P.

United Kingdom
I am grateful for this book
Thank you, Alex and Mimi, for creating this lovely book. I grateful that I get to read it to my children every night and they love it and know it by heart now.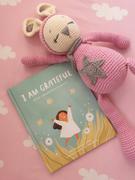 02/07/2021
Intelligent Change
We are so grateful to hear you and your kiddos are loving the book, Kameliya. Thank you for your support!
01/07/2021
Adriana S.

United States
I Am Grateful Book Review
Love this book and so does my daughter!
01/07/2021
Intelligent Change
This makes us so happy to hear your daughter is loving her I am Grateful book, Adriana!
Frequently Asked Questions
What is I am Grateful – The Life Changing Magic of Gratitude made of?

I am Grateful book was designed with the environment in mind. It is printed on Shiro Echo carbon neutral, FSC™ certified, biodegradable, and 100% recycled paper from Favini Italy. The hardback cover also features recyclable matte lamination. The CO2 emissions generated are fully offset.

We have removed the polyester stitching commonly used in book production to reduce the plastic used in this illustration book. It is unsewn and features the perfect bound spine. 

Packaging of  I am Grateful – The Life Changing Magic of Gratitude is also plastic free. 

The fabric parts of this product come from all natural sources, which means they will break down in nature over time.

What age is I am Grateful – The Life Changing Magic of Gratitude book recommended for?

We recommend the I am Grateful illustrated book to children aged 0-8 years old, because we believe that we can start instilling the concept of gratitude into a child's mind and heart at the very early stage of their life.

You may like to read the book straight through, or pause and talk about the gratitude prompts as you go. However you choose to use this book, may it remind you of how abundant and magical this world is.

How young children may benefit from practicing gratitude?

Children who regularly engage in gratitude practice are more likely to be resilient, report higher levels of happiness, and enjoy better mental health than their peers. These are wonderful gifts that will help to prepare young children for whatever challenges may come their way.

I Am Grateful book, together with the Five Minute Journal for Kids encourage children to pay attention to what they have–rather than what they don't–and will stand them in good stead for the future.

 

How does your 6 month back guarantee work?

We believe in a better tomorrow, a more productive and happier you. We create tools for the lifelong learners and doers because you are changing the world every day. 

We designed these tools with proven principles of positive psychology and daily accountability. This is why we are offering a 6 Month Money Back Guarantee: if you do not feel Intelligent Change products have shaped a better attitude towards productivity and happiness, simply email hello@intelligentchange.com and we can organize the return of your full journal or planner and issue a refund.

Do you offer payment plans/financing options?

Yes! We are happy to offer Afterpay to US residents at this time.

---

What is Afterpay?

Afterpay is a payment service that will allow you to make a purchase instantly and then pay for it in four equal payments made every 2 weeks without any interest. Perfect if you're waiting for payday! 

---

What do I need to apply for Afterpay?

- A US credit or debit card
- To be 18 years of age or older
- US resident address

---

How do I use Afterpay?

Simply shop on www.intelligentchange.com and check out as normal. At checkout, choose the 'Afterpay' payment method. You will be directed to the Afterpay website to register and provide payment details.

If you've used Afterpay before, just log in to your Afterpay account and then complete your order. As easy as that!

---

Where can I use Afterpay?

On any purchases made at www.intelligentchange.com

---

What if I am an international customer?

Currently, Afterpay is available to customers with a US billing address only.

At this time, customers with international billing addresses will not be able to create an Afterpay account or use the service. 

---

How does Afterpay payments work?

With AfterPay, you can complete your purchase right now and pay in four equal installments due every two weeks. For example, if you purchase an item for $40, you pay 4 installments of $10. There is no additional cost to use Installments by Afterpay as long as you pay on time. Afterpay customers have to make their first payment at the time of purchase. 

If you would like to make additional unscheduled payments before they are due, you may log in to Afterpay to make your payments early. Afterpay will then adjust the amount owed accordingly.

You can log in to your Afterpay account anytime to view your payment schedule or to make a payment before the next due date.

All of your payments are interest-free if paid on time, and you will receive your order right away!

---

What if I miss a payment or can't pay an installment?

An $8 late payment free will be charged if funds are not available at the time the automatic payment is due. An additional $8 fee will be charged if the missed payment is not made within 7 days.

Late fees will not exceed 25% of the total order. Please see Afterpay Payment Purchase Agreement here for more detailed information: https://www.afterpay.com/purchase-payment-agreement

---

Will the delivery of my items be delayed if I use Afterpay?

No! Your order will be shipped within our standard shipping time frame of 1 business day, just like any order on our website! Click here to shop now.

---

I want to learn more about Afterpay.

To learn more about Afterpay or get in touch with them, you may read the comprehensive FAQs here: https://help.afterpay.com/hc/en-us

If you still have questions, please reach out to hello@intelligentchange.com. We will be happy to help!

Do you offer a discount for bulk orders?

10+ Journals or Planners? Save 20% Applied automatically at checkout or use code save-20

40+ Journals or Planners? Save 30% Applied automatically at checkout or use code save-30

If you are interested in ordering 300+ journals/planners get in touch here.
Live a full life.
Leave a small footprint.
We believe we have a responsibility to craft our tools mindfully, keeping abreast of innovative natural materials, using recycled fibres, minimising carbon output, reducing end-of-life impact, and working with production partners who share our values.