Max 300 items. Cannot be combined with other offers. Need more items click here.
---
---
Some of the lives we have guided toward positive change.
Customer Reviews
Write a Review
Ask a Question
Filter Reviews:
journal
life
things
gratitude
book
friends
habit
something
people
experience
30/09/2020
Greg N.
Australia
Still waiting for item
I couldn't tell you yet as I still has my reviewer my journal.
27/09/2020
Lynne C.
United States
Heightened Awareness
My journal is an integral part of my morning and evening routine because it is a reminder of all life's blessings; it elevates even ordinary moments to states of joy; and it raises intention to an art form. My husband has enjoyed sharing it with me, as he proceeds through cancer treatment, and finds it a great tool for keeping us both positive and optimistic. I've shared this journal with friends as gifts and via the website. Everyone benefits from raised awareness about being grateful and noticing life's miracles.
28/09/2020
Intelligent Change
Thank you for your positive review, Lynne. We're honoured to know that Five Minute Journal has helped you and your husband in getting through this challenging time in your lives. We're grateful for your support and wish you and your husband lots of love, light and positive energy.
25/09/2020
Dylan C.
United States
Highly recommended the Five Minute Journal
I've been putting off writing this review since I've had the journal for a little over a month now, but I can honestly say that the Five Minute Journal has changed my life. In a short amount of time, I've noticed that I go into my day with a much more optimistic outlook and idea of how I want my day to look like. Taking a short amount of time every morning and night to remind yourself of the things in life you're grateful for will really make all of the negative things that you used to think about a lot feel so miniscule. I recommend the journal to anyone and everyone, even those that already have a very optimistic outlook on life. The daily quotes and weekly challenges alone make it worthwhile for anyone to enjoy.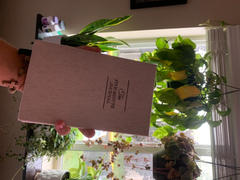 25/09/2020
Intelligent Change
Dylan, thank you for taking the time to write about your experience using the Five Minute Journal. We are truly thrilled to hear you are finding yourself more grateful, and seeing more changes each and everyday. Wishing you a continued positive journey ahead!
---
Featured in
product details

Width: 5.3 inches
Length: 8.3 inches
Weight: 0.8 lbs
Pages: 268
Printed on sustainably sourced paper stock from FSC suppliers.


shipping details

Economy (5-7 Business Days)
Standard (2-4 Business Days)
Express (1-2 Business Days)
International Standard (5-10 Business Days)
International Express (3-5 Business Days to Cities)

bulk orders

10+ Journals? Save 20% off. Applied automatically at checkout or use code save-20
40+ Journals? Save 30% off. Applied automatically at checkout or use code save-30
---
Recommended by
"The Five Minute Journal is one of the simplest ways that I have found to consistently ensure improving my well being and happiness. Both in terms of achievement and actual measurable, quantifiable results."
Tim Ferriss
New York Times best-selling author
Begin and end each day on a positive note.
☀ Morning Routine: You will be posed with three simple questions in the first moments after you awaken each day.
☾ Night Routine: Before laying your head to rest, you will reflect on that day's positive experiences and focus on how to craft a more fulfilling tomorrow.
---
Each extraordinary day at a glance.
Take an inside look at how you can make the most of each day in just five minutes.
Frequently Asked Questions
What retail stores can I find The Five Minute Journal / Productivity Planner in?

FIVE MINUTE JOURNAL Retail Locations

PRODUCTIVITY PLANNER Retail Locations

How long does The Five Minute Journal last for?

The Five Minute Journal lasts for 6 months of daily journaling.

Do you offer payment plans/financing options?

Yes! We are happy to offer Afterpay to US residents at this time.

---

What is Afterpay?

Afterpay is a payment service that will allow you to make a purchase instantly and then pay for it in four equal payments made every 2 weeks without any interest. Perfect if you're waiting for payday! 

---

What do I need to apply for Afterpay?

- A US credit or debit card
- To be 18 years of age or older
- US resident address

---

How do I use Afterpay?

Simply shop on www.intelligentchange.com and check out as normal. At checkout, choose the 'Afterpay' payment method. You will be directed to the Afterpay website to register and provide payment details.

If you've used Afterpay before, just log in to your Afterpay account and then complete your order. As easy as that!

---

Where can I use Afterpay?

On any purchases made at www.intelligentchange.com

---

What if I am an international customer?

Currently, Afterpay is available to customers with a US billing address only.

At this time, customers with international billing addresses will not be able to create an Afterpay account or use the service. 

---

How does Afterpay payments work?

With AfterPay, you can complete your purchase right now and pay in four equal installments due every two weeks. For example, if you purchase an item for $40, you pay 4 installments of $10. There is no additional cost to use Installments by Afterpay as long as you pay on time. Afterpay customers have to make their first payment at the time of purchase. 

If you would like to make additional unscheduled payments before they are due, you may log in to Afterpay to make your payments early. Afterpay will then adjust the amount owed accordingly.

You can log in to your Afterpay account anytime to view your payment schedule or to make a payment before the next due date.

All of your payments are interest-free if paid on time, and you will receive your order right away!

---

What if I miss a payment or can't pay an installment?

An $8 late payment free will be charged if funds are not available at the time the automatic payment is due. An additional $8 fee will be charged if the missed payment is not made within 7 days.

Late fees will not exceed 25% of the total order. Please see Afterpay Payment Purchase Agreement here for more detailed information: https://www.afterpay.com/purchase-payment-agreement

---

Will the delivery of my items be delayed if I use Afterpay?

No! Your order will be shipped within our standard shipping time frame of 1 business day, just like any order on our website! Click here to shop now.

---

I want to learn more about Afterpay.

To learn more about Afterpay or get in touch with them, you may read the comprehensive FAQs here: https://help.afterpay.com/hc/en-us

If you still have questions, please reach out to hello@intelligentchange.com. We will be happy to help!

Do you offer a discount for bulk orders?

10+ Journals or Planners? Save 20% Applied automatically at checkout or use code save-20

40+ Journals or Planners? Save 30% Applied automatically at checkout or use code save-30

If you are interested in ordering 300+ journals/planners get in touch here.

Do you have an app for the Five Minute Journal and Productivity Planner? iOS or Android?

Yes, we have an iOS app and Android app for the Five Minute Journal! You can find the app by clicking here.

We are also planning to create an app for the Productivity Planner - please stay tuned for updates!

How does your 6 month back guarantee work?

We believe in a better tomorrow, a more productive and happier you. We create tools for the lifelong learners and doers because you are changing the world every day. 

We designed these tools with proven principles of positive psychology and daily accountability. This is why we are offering a 6 Month Money Back Guarantee: if you do not feel Intelligent Change products have shaped a better attitude towards productivity and happiness, simply email hello@intelligentchange.com and we can organize the return of your full journal or planner and issue a refund.
---