Max 300 items. Cannot be combined with other offers. Need more items click here.
---
Some of the lives we have guided toward positive change.
Customer Reviews
Write a Review
Ask a Question
Filter Reviews:
journals
gratitude
tool
habit
friends
life
things
routine
something
quotes
08/07/2020
Mary K.
United States
Love this book!
The Five Minute Journal has been a wonderful addition to my morning meditation routine. There is more and more compelling research showing that a daily gratitude practice helps to improve people's outlook, positivity, sense of wellbeing, and leads individuals to focus on the neutral/positive aspects of the present moment rather than the negative. I have certainly found these findings to be true in my own life, and the Five Minute Journal is an excellent guide for maintaining a life-changing gratitude practice. The journal has inspirational quotes, has a beautiful crisp layout, and asks only the most relevant prompts to reflect on each day. I am on my second Five Minute Journal and have purchased them as gifts for many of my friends. As a professional mental health therapist, I have also recommended this journal to many of my clients coping with anxiety, stress, and depression.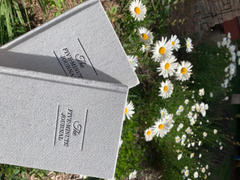 06/07/2020
Elvira .
United States
Great Journal!
I have been watching Mimi Ikonn for about 5 years now and she would always mention the 5 minute journal on YT and on her instagram. I was a teenager at the time and didn't really pay close attention to it but as I got older it started to intrigue me. One day I just decided to buy the journal as a bday gift to myself and I haven't looked back ever since. The journal has truly helped me see gratitude. I love how it puts me to think about my life's blessings first thing in the morning. While at night it helps me recap and forget about the millions of things that happen to just focus on the amazing things! I have now gifted 2 journals and so far so good :) my friends loved it! As do I. The journal is amazing and a great mindset tool!
06/07/2020
Intelligent Change
Thank you for your love and support of the Ikonns and the Five Minute Journal! We are so grateful to hear that you are having a positive journey with it thus far. Thank you for sharing this with your friends. Wishing you all a positive and exciting journaling journey ahead!
06/07/2020
Lacey W.
United States
Excellent Journal!
This has been such a great mindset tool. It's truly only 5 minutes of journaling, which makes it doable and easy to commit to. I love the look and feel of the journal; high quality and worth the extra cost.
06/07/2020
Intelligent Change
Thank you for your 5-star review Lacey! Glad to hear you are enjoying your Five Minute Journal and committing to it! Wishing you a wonderful journey ahead. :)
---
Featured in
product details

Width: 5.3 inches
Length: 8.3 inches
Weight: 0.8 lbs
Pages: 268
Printed on sustainably sourced paper stock from FSC suppliers.


shipping details

USA: 3–5 Business Days
Canada: 3–10 Business Days
Europe: 2–10 Business Days
World: 10–25 Business Days

bulk orders

10+ Journals? Save 20% off. Applied automatically at checkout or use code save-20
40+ Journals? Save 30% off. Applied automatically at checkout or use code save-30
---
Recommended by
"The Five Minute Journal is one of the simplest ways that I have found to consistently ensure improving my well being and happiness. Both in terms of achievement and actual measurable, quantifiable results."
Tim Ferriss
New York Times best-selling author
Begin and end each day on a positive note.
☀ Morning Routine: You will be posed with three simple questions in the first moments after you awaken each day.
☾ Night Routine: Before laying your head to rest, you will reflect on that day's positive experiences and focus on how to craft a more fulfilling tomorrow.
---
Each extraordinary day at a glance.
Take an inside look at how you can make the most of each day in just five minutes.
Frequently Asked Questions
What retail stores can I find The Five Minute Journal / Productivity Planner in?

FIVE MINUTE JOURNAL Retail Locations

PRODUCTIVITY PLANNER Retail Locations

How long does The Five Minute Journal last for?

The Five Minute Journal lasts for 6 months of daily journaling.

Do you offer a discount for bulk orders?

10+ Journals or Planners? Save 20% Applied automatically at checkout or use code save-20

40+ Journals or Planners? Save 30% Applied automatically at checkout or use code save-30

If you are interested in ordering 300+ journals/planners get in touch here.

Do you have an app for the Five Minute Journal and Productivity Planner? iOS or Android?

Yes, we have an iOS app and Android app for the Five Minute Journal! You can find the app by clicking here.

We are also planning to create an app for the Productivity Planner - please stay tuned for updates!
---
Inspiring quotes and inspired customer stories.
Use #fiveminutejournal for a chance to get featured
---