Max 300 items. Cannot be combined with other offers. Need more items click here.
---
Inspiring quotes and inspired customer stories.
Use #beproductive for a chance to get featured
---
Customer Reviews
Write a Review
Ask a Question
Filter Reviews:
planner
Productivity Planner
tasks
things
quotes
goals
book
life
priorities
quality
03/02/2021
Carla N.

United States
AMAZING JOURNALS
I love both the Productivity journal and the Five Minute Gratitude journal because it simple to use. Productivity journal helps you think about and realize what's priority. Five Minutes Gratitude journal allows you to reflect on your day by filling in how you are grateful. I gave these journals out as Xmas gifts and everyone LOVES THEM to include me!!! I will buy again and share with others.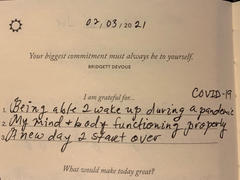 04/02/2021
Intelligent Change
Hi Carla, thank you for sharing! Yes, the Productivity Planner certainly helps put this into perspective in terms of your top priorities and the time it takes to complete them. Whereas, the Five Minute Journal gives you that quiet moment of time at the beginning and end of the day to reflect and acknowledge everything good in our lives. Thank you for your love and support.
02/02/2021
Jered J.

United States
Highly Recommended!!!
Outstanding customer service and incredible product - couldn't be happier!
04/02/2021
Intelligent Change
Thank you for your kind words, Jered! Wishing you a positive and productive future ahead. :)
09/01/2021
Shana S.

United States
Best organizer ever!
Wonderful - organizes projects, tasks and time in a way that truly keeps me focused.
10/01/2021
Intelligent Change
Thank you for your positive review, Shana. Happy to know it is keeping you focused and organized!
---
Featured in
product details

Width: 5.2 inches
Length: 8.5 inches
Weight: 0.8 lbs
Pages: 244
Printed on sustainably sourced paper stock from FSC suppliers.

shipping details

Economy (5-7 Business Days)
Standard (2-4 Business Days)
Express (1-2 Business Days)
International Standard (5-10 Business Days)
International Express (3-5 Business Days to Cities)

bulk orders

10+ Planners? Save 20% off. Applied automatically at checkout.
40+ Planners? Save 30% off. Applied automatically at checkout.
---
Recommended by
""The Productivity Planner has completely changed the way I work. It has helped me prioritize my life for the vital few things that are important. Before using it, often I would let my calendar and to-do list run my day and never felt like I was getting the important stuff done""
Vanessa Van Edwards
Author & Behavioral Investigator, Science of People
Sometimes, when we do less we actually achieve more.
• Important Work Over Busywork: Task yourself with only the undertakings that will ultimately lead to your most vital goals and dreams.
• Actions Not Distractions: Work in short, focused bursts called Pomodoros that concentrate your efforts and make more efficient use of your time.
• Always Plan to Improve: At the beginning of each week, you plan for success. At the end of each week, reflect on the results and refine your work patterns for even greater successes moving forward.
---
Take an inside look at how you can make every day a productive one.
Frequently Asked Questions
How long does the Productivity Planner last for / what is inside?

There are 7 daily pages per week, and 23 weeks. A total of 115 daily pages + weekly planning + weekly reviews. It is created for 6 months of planning.

The planner does not include a calendar, but has weekly planning and weekly review pages. Each daily page also includes room for notes. 

The Productivity Planner's main purpose is to help you accomplish your most important tasks of the week, not just another to-do list that is neatly organized :) 

Do you offer a discount for bulk orders?

10+ Journals or Planners? Save 20% Applied automatically at checkout or use code save-20

40+ Journals or Planners? Save 30% Applied automatically at checkout or use code save-30

If you are interested in ordering 300+ journals/planners get in touch here.

What is the Productivity Planner made of?

The Productivity Planner cover is made from a textured, vegan-leather composite material. The inner pages are FSC Certified paper.
---