Good News of The Week
by Veronica Joce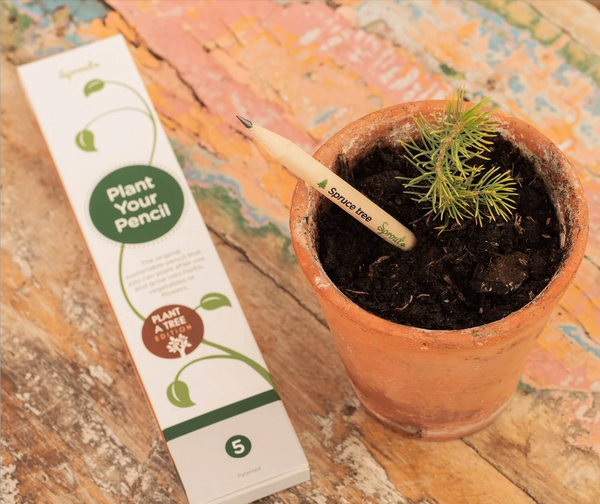 Now you can grow trees or plants from these pencils
Sprout, a Danish company, lets you grow trees and plants from pencils. Their biodegradable pencils, which contains seeds, can be planted once you finish using them.
The pencils are made from sustainably harvested wood, with a writing core made from 100 per cent natural and non-toxic graphite. Hidden at the end of the pencil, however, is a plant-based capsule filled with seeds.
"Once you're done writing, instead of throwing it out, you simply plant the green capsule, which contains the seeds, and then you take care of it like any other plant," Michael Stausholm, founder of Sprout. So far Sprout, which was created in 2013, has sold more than 30 million pencils in over 80 countries, including the United Kingdom, Germany and the United States.
Brothers launch clothing line to fund research for a cure to blindness
Through their Two Blind Brothers clothing line, Bryan and Bradford Manning stimulate the experience of shopping while blind. All profits benefit organizations like the Foundation for Fighting Blindness that research prevention, treatments and cures for degenerative eye conditions.
The Manning brothers were both diagnosed with Stargardt disease, a rare genetic eye disorder that can cause blindness, when they were kids. Bryan told People that when you are blind, "the one thing you learn quickly is trust. You have to put these little moments of trust in people, like the trust that a cab driver will drop you off in the right corner ... or you'll get the right change from a cashier because you can't see for yourself."
Bryan and Bradford launched Two Blind Brothers in 2016 so their customers could trust them — they sell mystery boxes filled with different products, such as hoodies, sunglasses, and socks, which have braille stitched into them. So far, the brothers have raised more than $750,000.
Sri Lankan man turned his motorbike into a mobile library to bring books to kids
Mahinda Dasanayaka wants all kids to have access to books, and to make this happen, he turned his motorbike into a library on two wheels. Dasanayaka is a child protection officer for the Sri Lankan government. Three years ago, he launched a program called Book and Me, and he travels weekly to villages across Kegalle, a mountainous region northeast of Sri Lanka's capital, to distribute books.
Dasanayaka goes to villages that do not have libraries, and he told The Associated Press kids are "always eagerly waiting for me, always looking for new books." He brings everything from biographies to detective stories, which he carefully packs in a steel box attached to his bike. His collection has grown to about 3,000 books — some he bought, others donated.
Dasanayaka said he continues the program because he wants to bring people together and "change the way kids look at society, to change their perspectives and broaden their imagination."