Good News of the Week
by Veronica Joce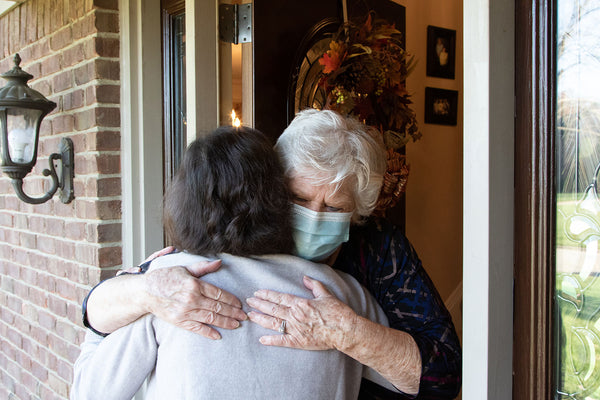 Woman reunites with 1st grade teacher who taught her to speak English 40 years ago
Ana Reyes immigrated to Louisville, Kentucky, after living in Spain and Uruguay. Her teacher, Pat Harkleroad, noticed Reyes was struggling due to the language barrier, and immediately set up one-on-one English lessons. Ana Reyes couldn't remember her first grade teacher's name, but she never forgot her kindness.
Reyes recently asked the Kentucky Department of Education for help tracking down her teacher and last week they reconnected after 40 years. "Being able to say thank you to someone who changed my life felt so meaningful and uplifting," Reyes told People.
Reyes graduated from Harvard Law and earned a master's in international public policy from Johns Hopkins University. Now an attorney, Reyes shared with People she was inspired by Harkleroad to help others, and represents refugees, pro bono.
Army dad writes 270 special notes to slip into his daughter's lunch during deployment
Before he deployed to Afghanistan, Army Staff Sgt. Philip Gray sat down and wrote 270 messages for his daughter Rosie, 7, — one for each day he would be away. His notes encouraged her to do her best at school and excel in her activities and hobbies.
"He was very big on feel-good words for her and girl power," his wife, Kristen Gray, told Good Morning America. "He made sure to tell her how smart she was, and run fast in P.E., and things that would really make her happy."
Pennsylvania bakers deliver 15,000 treats to frontline workers and caregivers
Scott McKenzie was furloughed from his job in April, and decided to use his free time learning how to make chocolate chip cookies. He and his friend Jeremy Uhrich decided to have a bakeoff, and planned on donating the cookies to frontline workers in their community.
This quickly morphed into a group called Cookies for Caregivers, which brings goodies to nurses, firefighters, and grocery store employees around Huntington, Pennsylvania. Since April, more than 100 people have joined, and they've delivered more than 15,100 treats across town.
McKenzie told People the Cookies for Caregivers bakers have no plans to ever stop, because "kindness doesn't have an expiration date."