How to Take Your Work Outside
by Intelligent Change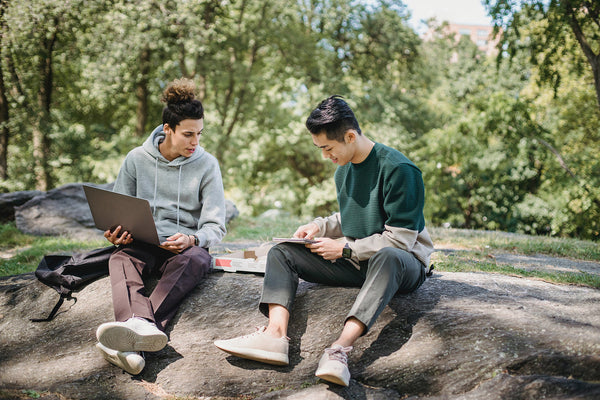 Whether you want to spend more time in nature, enjoy the sunny days while working from home, or stay productive when travelling, taking your office outdoors requires a good game plan. We have prepared several tips for you on how to stay focused, productive, organized, and also comfortable.
Taking Your Work Outside: Tips and Tricks
Comfortable Sitting
Just like in the office or at home, you need to be seated properly and comfortably when taking your office outside. If you're going to the park, look for benches––or trees––that can support your back. You don't have to bring a standing desk and your ergonomic chair, but a nice and comfortable foldable sitting or deck chair should do the trick. If you really want to gear up, you can also bring a lap desk, or a small outdoor picnic table and truly expand your office space by moving into nature.
It's super-important that you are seated comfortably while you're typing away on your laptop if you want to avoid back pain and many other issues (most of them chronic) that can occur due to sitting in unnatural positions often and for long periods.
Find Shade
Exposing your phone or laptop to direct sunlight causes glare, and you may have noticed that it's really difficult to see what's on the screen. Straining your eyes for better vision can then lead to headaches, and not only will that make it very uncomfortable for you to work outside, but it can completely wreck your productivity.
Direct sunlight can also overheat your computer, burn the battery, or lead to other problems in performance. Your equipment aside, you also need to protect your skin from direct sunlight and the harmful UVA and UVB rays. Working from a nice shade can help prevent all these problems.
In order to find a good shade in a busy place, you'll need to either grab a spot beneath a tree early in the morning, come to work after 5 pm when the sun is already going down, or bring your own parasol. If you live in a house, and "taking your work outside" simply means sitting in your garden, then durable patio furniture and a parasol should be enough.
If you envision working from a coffee shop or a restaurant's terrace, make sure it has everything we explained before: fresh air, comfortable sitting, and shade.
Gear Up
Comfort at work is very important, regardless of whether you're in a traditional home office or you've decided to take your work outside in nature.
Comfort Gear
A cozy chair and some shade are sometimes all we need, but if you plan on doing this more frequently, we strongly recommend gearing up, because you want to keep your productivity optimal, keep your body healthy, and be able to fully enjoy working in the natural environment.
For example, you can also bring a cushion or a yoga mat with you, so that you can change positions, or stretch when taking breaks. You can also use the cushion to support your back while sitting on the chair for hours.
Tech Gear
If you want to improve the quality of your working process, bring your computer gear, too. If your laptop keyboard is too small and uncomfortable to use, don't hesitate to bring a wireless keyboard and a mouse.
Now, the biggest problem you might face is charging your laptop outside. There are several solutions. One is to purchase a portable charger if your laptop supports the USB-C power delivery charging plug-in. This is quite common with Apple products as well as thin-and-light laptops. In this case, you can't just use your phone's power bank, as it doesn't offer enough mAh (capacity) nor speed (watts) to charge a laptop. You need a bigger battery that offers more energy. The other solution is to use solar sockets, but, as you may know, these can be unreliable if there's not enough sun.
If you plan on sitting somewhere where other people frequently come to enjoy their time in nature, distractions are inevitable. But you can easily combat this problem by putting on a pair of noise-canceling headphones.
Productivity Gear
When it comes to maintaining your productivity, we recommend using the Focus Time technique. During breaks, you can stretch, practice yoga, grab a snack, sit still and practice people-watching, or just walk around and enjoy the greenery and fresh air.
To support your Focus Time productivity sessions, you can use the Focus Timer hourglass. It's a 30-minute sand hourglass designed to help you prevent distractions. It's small and simple, so it's easy to carry anywhere with you, and it helps you measure precise 30-minute intervals for your productive working sessions.
Make the Transition Easy and Simple
The transition process to your outdoor office should be sleek and easy because, otherwise, it will lose its attractiveness.
First, you need to plan for your outdoor transition by adding it as a task to your Productivity Planner. But, even before that, you can work on creating a conscious intention to spend more time in nature this summer and then turn it into a goal.
Mentalizing and planning for the process is the first step of making it easier.
Other useful things to have for a smoother transition outside are a good laptop backpack with all the essentials inside, tech gear, microfiber cloth, and, of course, a reliable wi-fi signal. Some people purchase phone internet from their providers and then simply hotspot, but you can also purchase a portable internet USB adapter for a better connection.
On the other hand, if the transition you're making is only to your own backyard or garden, it should be quite simple. Adapt your garden furniture so it can give you the best working and relaxing experience, and bring everything you need from the apartment.
---
Expanding your office outdoor does take some investment, such as working gear and outdoor furniture, however, spending time outdoors and reconnecting with nature is both healthy and gratifying. Thanks to technological advancements and solar-powered energy, many of us are now able to work from almost anywhere.