Every Blank Page Is Full of Potential
by Kinga Lewandowska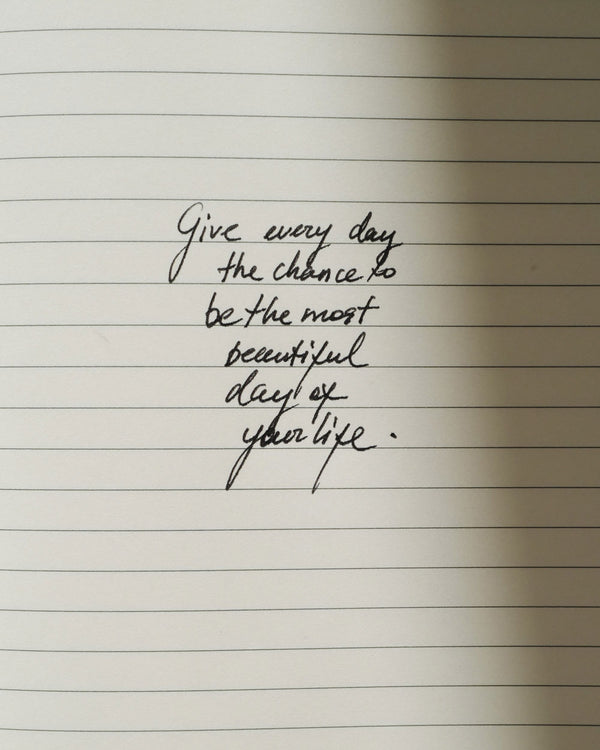 And just like that, birdsong has changed its tone. A different melody prologuizing a new chapter is carrying through the woods, city parks, and our backyards. Sunlight confirms this shift in the air. Have you noticed that the light is now illuminating the world from a slightly different angle? It's piercing through the trees with renewed determination. Winter's reflective whispers are about to make room for spring and its bold promise of novelty and awakening.
"To be a Flower, is profound

Responsibility—"

— Emily Dickinson
Blooming in all the vibrant colors of the rainbow, the new season is loud and proud. And, as if by magic, this revival in nature usually triggers some kind of rebirth inside us. After all the winter months filled with recuperation and reflection, we can feel new energy inhabiting our bodies and minds. With longer days brightening up our vision we are ready to spread our wings and soar.
But where do we start?
Every new beginning is a blank page and in the purity of it we need to trust. Our entire life is a journal, but while the first lines of our existence may be written for us by our guardians, teachers, or circumstances beyond our control, now our choices and verbiage are almost entirely our own. This is what freedom feels like––no rules, only immense potential emanating from the blank sheet of paper in front of you. Freeform lifestyle, no holds barred.
Pick up a pen or a pencil (even a piece of charcoal, maybe you'll want to draw?). Feel the weight of it in your hand. Take a deep breath and let your writing tool caress the white surface of the page. The ink is speaking. One letter after another, in words marching along the lines, your mind will begin to create another chapter in your story. We are all architects of our individual realities, we design our private worlds one paragraph at a time.
When a writer gets to work, they know their creative power. In a single minute a few brush strokes can bring a new work of art to life on the canvas of a notebook, manifesting the depth of life that did not exist a few seconds ago. And while our imagination is perfectly capable of creating detailed fiction, we can also use our mental muscles to project our very real future, quite literally connecting the dots.
Are you curious what your blank page could reveal to you?
Your journal will listen to your problems and help you gain new insights about yourself and what you want, all the while guiding you through your emotional dimensions to inner peace. It's basically free therapy, mindfulness in its purest form, and self-care all wrapped in one notebook cover. In it, you can pave the way to happiness with solid stones of affirmations. You can fix negative feelings with gratitude. And you can map out your entire future with productive planning. Yes, one blank page offers all you need to succeed because it reconnects you with you. Use it wisely.
"Dreaming, after all, is a form of planning."

― Gloria Steinem
The moment you decide to put your faith in the blank page, you open the door to possibilities and extend the boundaries of your life in all directions. Right now, what's in your head and heart might seem immaterial, yet the moment it comes to life in the form of ink patterns, it becomes tangible, real – a dream turns into a plan.
The best part? Nothing is set in stone, nothing has to be decided right this second. You can erase obsolete thoughts, change your mind, and rewrite the narrative whenever you like. On a white sheet of paper, you have the utmost freedom to act in accordance with what your heart dictates at any given moment. Spring fills her blank pages with wonder. Will she inspire you to do the same?
Life is what you make it. If you actualize it in between the lines of your journal, you'll conjure up a brand new edition of yourself. Spring is the perfect time to start anything. Like autumn, it holds a transformative power over our limiting beliefs and potential apprehension about taking action. After a whole season of thinking, brighter, longer days nudge us to do more. Every year's spring is a renaissance in nature. Every blank page is an opportunity to write a renaissance for your life.
"March is such a fickle month. It is the seam between winter and spring—though seam suggests an even hem, and March is more like a rough line of stitches sewn by an unsteady hand, swinging wildly between January gusts and June greens. You don't know what you'll find, until you step outside." ― V.E. Schwab, The Invisible Life of Addie LaRue