2018 Holiday Gift Guide
by Kevin Evans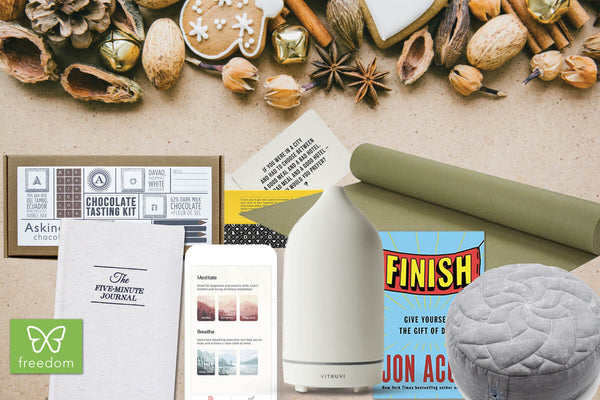 Need a thoughtful gift for your ambitious, growth-minded loved one? We've got you covered. We curated 10 gifts to reliably create positive change, spark joy, or both - gifts we have used (and a few we dearly want) that put smiles on our faces.
1.
Oak Meditation App
+
Zafu Meditation Cushion
Meditation Made Simple:
$50 - $60
For the past two years, we recommended Headspace
(which is still a
solid option
) for meditation, but we are loving Kevin Rose's
free alternative Oak
. Like
Headspace, Oak offers guided mindful and loving-kindness meditations with male and female instructors. You have the option of choosing guided meditations from 5 to 30 minutes in length to unguided meditations up to 24 hours in length. It's the perfect (free) way to get into meditation. Combine this with a Zafu meditation cushion for sitting support and you're ready to start the new year with a calm mind.
2.
The Five Minute Journal
The Simple Way to Become Happier:
$22.95
We are biased here because we have seen the dramatic effects in our own life, but with 400,000+ Five Minute Journalers practicing the power of gratitude journaling and setting purposeful action each day, it's easy to see why it's the simplest thing you can do to start and end your day happier.
3. Diffuser + Essential Oils
Calm Your Mind with Aromatherapy:
$119 - $160
Research into aromatherapy is relatively young, but diffusing oils such as lavender has shown to promote better sleep, increased respiratory function, and an improved ability to fight colds. At very least, they provide a very pleasant scent before going to bed, helping us de-stress and rest a bit more peacefully. We like the Vitruvi Stone Diffuser as it looks beautiful, but Amazon also has great less expensive options.
4. Freedom App
Prevent Distractions:
$6.99/mo or $129 one time charge
Despite our best efforts, in between tasks we often will start browsing another website before...whoosh!...where did the time go? Enter Freedom. Freedom helps you combat distractions by either blocking sites entirely or setting a time limit for distraction prone sites.
5.
Jade Fusion Yoga Mat
+
Yoga with Adriene
Get Your Body Feeling Great:
$135 - $145
Yoga with Adriene's
YouTube channel
offers a very easy, and personable introduction to Yoga and has more advanced practices for seasoned Yogis. The Jade Fusion Mat is an extra padded yoga mat in which your knees will thank you made of eco-friendly materials with fantastic grip. Even 10 minutes of Yoga a day can make your body feel looser than it's ev
er been. We find it's a great way to start or end the day.
6.
Finish: Give Yourself the Gift of Done
Ditch Perfectionism. Finally Accomplish Your Goals. :
$19
Jon's book is one of the most practical productivity books we've read to date. So much productivity advice, whether consciously or not, revolves around perfection and squeezing every last drop of effectiveness. By contrast, Finish works with the natural rhythms of our life and sets a productivity pace you can maintain for the long haul. It's the perfect balance between inner psychology and practical tips for implementing.
7.
Handwritten Thank You Note
From the Heart:
Free - $200+
One of the most memorable gifts we receive are often good ol' fashioned letters of appreciation. A heartfelt word means the WORLD to us! Plain paper works, but if you want to get fancy, consider upgrading to high quality stationary as it gives an extra special touch. Either visit your local craft stationary store or check out this custom stationery from
Terrapin Stationers
. Peter Ngyuen of the Essential Man wrote an excellent Instagram post on how to write a Thank You note
here
.
Shawn Askinosie was a former defense Lawyer turned chocolate maker. But not any chocolate maker, a direct trade chocolate maker! That means he directly visits and does profit sharing with the cocoa farmers he does business with. It's a more humane practice from the bottom up, and most importantly from the consumer end, he produces some delicious chocolate! Askinosie has a bunch of great gifting options in their store and nothing says "I love you" like some fresh baked chocolate chip cookies. Askinosie recipe for soft baked chocolate chip cookies can be found here.
9.
100 Questions by School of Life
Spice Up Your Conversations: $30

Tired of the same old conversations with your friends and loved ones? Want to discover things about them you never knew or were too afraid to ask? School of Life's 100 questions comes to the rescue. We found its a simple way to liven up an otherwise dull night in. We find the ideal amount people to play with is about 4-6. They also have

a family edition and a work edition if you want to ge

t more specific.

10. Experience Together
Create Memories, Together: Free - $$$

Time and time aga

in, the research shows that experiences make us much happier than material goods. Try to break routine entering the new year and engage in a new experience beyond dinner or drinks. Airbnb, Dabble and Course Horse are both good starting places to find local classes and experiences. In our experience, culinary classes and physical activities seem to be a good bet.