Building sustainable future together
by Intelligent Change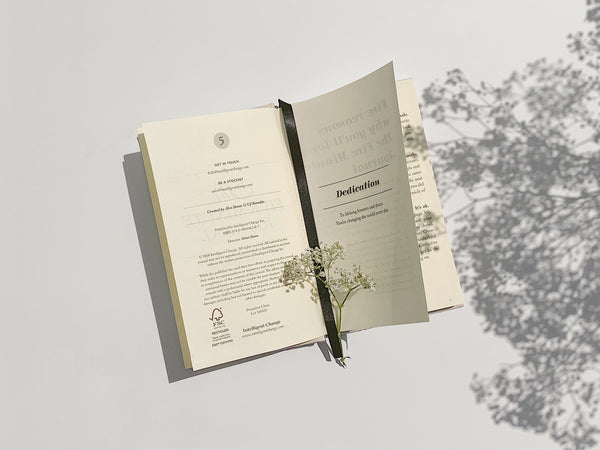 This year has highlighted the need for change we've been waiting for: establish strong human connection, focus on long-term health and have a more conscious way of living. That's why this unprecedented time and the current crisis is a defining moment for all of us to build a more resilient and sustainable future. The future of real, positive changes based on fundamental principles of human rights, equality and sustainability.
It's all of our jobs to make better, mindful choices about our daily decisions, brands we're supporting and products we're purchasing. At Intelligent Change, we're trying to do better. During 2020, we've committed to review our full supply chain – from materials used in the products to manufacturing and disposal processes – to see where we can improve to lower our environmental impact.
We recognise that improvement is a slow but steady process, full of research, conversations and unforeseen obstacles, but we believe in the vital importance of making small steps into the right direction on a daily basis. As a hugely consumer-driven society, one of the first steps we can make to improve our planet and give second life to the things we no longer need is to recycle them properly. Here is all you need to know about how to recycle your Five Minute Journal:
Recyclable:
Five Minute Journal is made of 100% recycled paper.
– End paper and inner pages are FSC certified. These can be recycled.
– Cover board can be recycled if you can remove the fabric from the board. The board can then be placed in the recycling.
Disposable:
– Cover fabric is made from a cotton/linen mix and will degrade overtime in landfill and disappear. This is a natural fabric and therefore doesn't break down into micro plastics. Alternatively, you can save the cover fabric and use it in your crafts projects.
Not recyclable yet:
– Head and tail bands are made from a mix of fabrics, so can't be recycled currently.
– Ribbon is made from polyester, and it can't be recycled at the moment.
– Barcode sticker can't be recycled currently, but it will be replaced with a recyclable label in the near future.
This year we're focusing on resourcing new biodegradable materials and natural fibres; implementing recyclable options for our packaging; bringing manufacturing closer to our customers to reduce the number of miles they have to travel; as well as creating a more sustainable workplace, where each Intelligent Change team member takes responsibility of their daily choices.
While improving our products, we're constantly learning about sustainable, natural solutions, and we would love to hear from others who have advice in this area. Please do share your feedback with us. This way, we can contribute to creating a better future together.
Conscious living, however, doesn't stop there. Here are 3 easy ways you can live a more sustainable life:
Start eating less meat. Go for quality over quantity, try to eliminate one meat dish per week and get into the habit of eating seasonally and

locally.

Also, in order to cut down on food waste, plan your meals in advance.

Do your best to avoid single-use plastic. Start with plastic bags and plastic bottles. Invest in a good reusable cup and food containers, opt for loose leaf tea instead of tea bags and practice plastic-free grocery shopping.

Be more mindful with everything you consume, from fashion to books, home decor, and everything else. Buy what you need and monitor what you already have, donate everything you don't need anymore, reuse the items you have, and get amazing vintage clothes.

And remember, improvement isn't about perfection, it's about the progress and commitment.