How to Spend Quality Time with Your Loved Ones
by Intelligent Change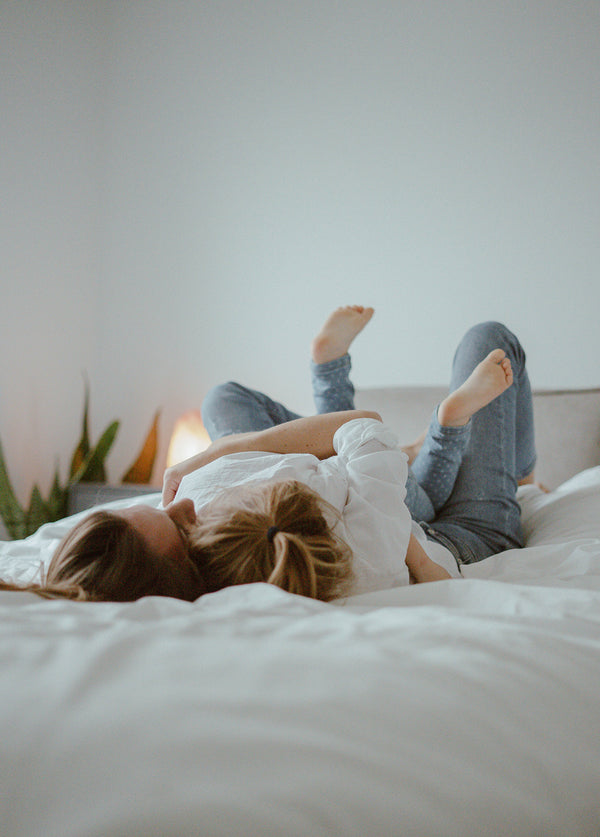 If you're wondering how to spend quality time with your family, we're here to offer creative suggestions.
We all share the experience of living in this hectic reality and we know how difficult it can be to schedule for family time. Many families accept the compromise solution and focus on the major holidays. But we all know that's not enough, because exactly the small moments of joy and quality time spent together is what helps us nurture our relationship and deepen our bond.
Here's a list of simple, engaging and mindful activities that facilitate spending quality time with your family. Some of them require almost no effort, while others need some organization and planning. Check them out and get inspired for your next family activity.
Cook and Eat Together
Cooking and eating is something we do on a daily basis. Depending on the amount of free time, we might choose to experiment with gourmet dishes that take hours to prepare or just boil some pasta, add a simple dressing, and call it a day.
In both cases there is a way to make it more fun: prepare and eat a meal together with your family.
A longitudinal study conducted in 2017 in Canada revealed that families who eat together in a calm and mindful environment tend to be healthier, both physically and mentally. This is not simply due to consuming healthier, home-made food — it's also about connecting, communicating, and de-stressing.
Family meals (and meal preps) are an excellent opportunity to have some meaningful conversations, reconnect, and share what's on your mind.
Do Housework Together
Is there:
A lightbulb to be changed?

A plant to be replanted?

A balcony/patio to be organized?

Books to be sorted?

Clutter to be moved to the basement?

A pile of dishes to be done?

A room that needs to be redecorated?
Chores don't have to be boring when you do them together. They're an excellent opportunity to teach the youngest ones how to take care of a household, have some fun, cultivate gratitude for the space you call home, have meaningful conversations, and enjoy a well-deserved hot chocolate afterward.
A 2013 research revealed that completing household chores together as a family can lead to an increase in competence with necessary life skills, instilling your family's values, and in overall wellbeing.
Run Errands Together
Doing errands together has several benefits for the whole family:
You can complete them faster;

You make home-related decisions together (instead of one person being responsible for everything);

Small children can learn a lot while running errands with their parents;

You're spending time outside of the house, which is good;

If there's some shopping to be done, you get to find out more about each other's taste;

It's much more fun to run errands together than alone, etc.
You can spice it up with an ice-cream or lunch break after completing your chores, or head home for a cup of your favorite tea to unwind.
Keep a Gratitude Journal Together
Keeping a gratitude journal is a day-to-day practice that only takes five minutes every day, making it an excellent activity for the whole family.
The Five Minute Journal and The Five Minute Journal for Kids are tools designed to enrich your morning and evening routines with positivity.
Practicing gratitude has many benefits, not the least of which is the improvement of your relationships with other people.
You can practice gratitude as a couple and fill out your Five Minute Journals as part of your morning and evening routine, the same way the Intelligent Change founders, Alex and Mimi Ikonn, do.
You can also make it a part of the positive morning routine you have with your children, with The Five Minute Journal for Kids.
Schedule Walks X Times a Week
Spending time outside is crucial for maintaining a healthy lifestyle. While going alone for an outdoor therapy session is fun, we think it's even better if you go for a recreational walk with your loved ones.
Find the nearest park or forest and breathe some fresh air, explore your city or take a stroll down the city center and enjoy the dynamic of life.
Plan for Monthly Trips
If your schedules allow, taking short monthly trips to another city, to the countryside, or into the wild with your family is an excellent way of spending quality time together.
Traveling is unwinding, energizing and exciting in itself, from the moment you start packing, to arriving at the destination. Family trips help us reconnect with each other, recharge our batteries, enrich our lives with new experiences, and they leave enough room for spontaneous adventures we'll remember for the rest of our lives.
If you decide to go on a family trip, here's what you can do:
Make great photo and video memories;
Expand your knowledge about different cultures and lifestyles;

Try new food;

Learn how to manage in unknown environment;

Go skiing in the winter/swimming in the summer;

Create new rituals, etc.
Volunteer Together
Giving back to the community is one of the best answers to the question how to spend quality time with your family.
Whether you'll follow important family volunteering holidays, or initiate your own project, contributing to a greater cause together is rewarding and fun.
You can plan a trip together to family-friendly volunteer destinations like Bali, Thailand, Costa Rica, or Indonesia if your schedules allow.
Here are some recommendations on how to organize your family volunteer work.
Help/Spend Time with the Local Elderly People
Do their errands;

Get their groceries;

Spend time with them chatting;

Read a book to them.
Help People Coping With Illness
Make cards or activity kits for hospitalized children;

Take walks/runs to raise funds for the search for a cure;

Create an online raising awareness campaign with other members of your family.
Help the Homeless
Volunteer together in the local community kitchen;

Create homeless care kits with hygiene and medical necessities;

Donate or help sort and deliver things like clothes or basic med-care.
Clean Up Your Neighbourhood
Organize a clean-up-the-neighborhood volunteer action with your family and try to open it for all members of the local community. Bring people of all ages, genders, races, and classes together in a solidarity action;

Make it a monthly/quarterly event. Who knows how far it will develop?
Engage in Long Conversations
Although most of the tips we listed in this article ultimately lead to emotional engagement and open communication, we can not express enough how important it is to talk. A recent huge study conducted in New York revealed that the secret to growing smart, eloquent children are parents who talk a lot to them.
Families that openly communicate their feelings and discuss their ongoing family life tend to be more cohesive, secure, and spontaneous.
Pick Up a New Skill Together
The 21st century opened up a variety of opportunities for picking up new skills. From online language courses to flamenco dancing lessons, learning something new as a group is always fun and rewarding, plus you get to practice together.
Discover a variety of courses on websites like Coursera, Iversity, or Udemy, or pay a visit to a local educational center. Perhaps a local NGO or a community center is hosting interesting seminars and workshops you can attend together.
Here's what we recommend:
Learn a New Language
Spanish? Italian? Swedish? German? Imagine your whole family taking a language class together and then practicing it while travelling or speaking it at home. Fun and useful, right?
Visit a local language school, download DuoLingo, or see what openculture.com has to offer.
Take Dancing Lessons
Dancing never gets old. Cuban salsa, tango, flamenco, hip hop, or Zumba, everyone from 7 to 107 enjoys moving their body to the rhythm of music.
Another advantage of modern life is that dancing courses are also available online if you prefer to have your lessons at home.
Do Yoga Together
Another activity for the whole family that promotes a healthy lifestyle and provides an opportunity to instill healthy habits and strengthen family bonds.
Take a Creative Writing Course
Join a creative writing course together as a family and use your new skills to produce something together. You can collect stories from your family history and write a book together.
Video Chat (If You Live Far Apart)
If you live far apart and you're unable to do any of the above as you see each other rarely, use everything modern technology has to offer: group chats, a family blog or website, or video calls.
They won't replace physical presence and contact entirely, but at this moment in history, they're all we got.
---
The Bottom Line
At the end of the day, we all know how to spend quality time with our loved ones: kind words, active listening, paying attention, showing care. Sometimes, that's all it takes.