Your personal and
achievable
action plan.
What's inside:
1. List of your focus areas
2. Strategy and required actions to get you there
3. Date you want to reach each of your goals
4. Your why behind achieving this particular goal
5. Any resources you will need to help you on your way
6. Celebration of small wins and milestones
Inspiring quotes and inspired customer stories.
Use #intelligentchange for a chance to get featured
A guide to a more fulfilling year ahead:
✓ Celebrate your experiences and achievements from the past 12 months
✓ Reflect on the knowledge that you gained over the last year
✓ Gain clarity about where you are today and where you want to go in the coming months
✓ Create an action plan to ensure a happy and fulfilling year ahead
✓ Stay on track, review your goals and regularly check-in with your progress.
You may be interested in
These best-selling and top-rated tools will help you unleash your full potential and turn your dreams into reality.
Shop best sellers
Some of the lives we have guided toward positive change.
Customer Reviews
Write a Review
Ask a Question
Filter Reviews:
journal
gifts
writing
questions
prompts
thoughts
mind
something
response
purchase
02/06/2021
Beth D.

United States
Wonderful gift
This purchase was a gift for a friend. She absolutely loved the journal. From her response it is something that I will keep in mind for future gifts.
02/06/2021
Intelligent Change
Grateful to hear that your friend is loving it!
01/03/2021
Ramona D.

France
The Best Year Journal Review
It got me asking myself about what is important to me, and also prioritize and visualize what is that I want to achieve. It is a very well structured journal. Makes it easier to become more intentional.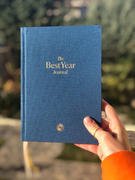 02/03/2021
Intelligent Change
Thank you for your honest and positive feedback, dear Ramona. Have an enlightening journey ahead with it!
03/02/2021
Ioana A.

United Kingdom
Goal-setting (and achieving!) at its best
I started just at the beginning of the year and so far managed to write in a lot of things. Didn't think I would write this much :) I find the prompts and the questions really helpful to keep writing and put thoughts on paper.
04/02/2021
Intelligent Change
Dear Ioana, thank you for your feedback and we appreciate the time you're committing to your new Best Year Journal. We understand that it's an investment of time but we're confident that it will pay off at the end of 12 months. All the best on your journey.
Frequently Asked Questions
What is inside the Best Year Journal?

Inside the Best Year Journal, you will discover an introduction guide on how to use this journal to make the coming year the best one ever.

There are four parts: Reflection, Knowledge Gained, Vision and Clarity, and Personal Action Plan. There is also a fifth part – a Monthly Review to help you track your progress and gain monthly insights. 

There is also plenty of room for notes in every section.

How long does the Best Year Journal last for?

This journal is meant be used within a year period. The

 

Best Year Journal

will give you the space to reflect on and review your past year, set vision and clarity for the next 12 months, and track your progress on monthly basis.

Is the Best Year Journal dated? When should I start filling it?

Best Year Journal is undated. You can fill it in at the end of December, in January, on your Birthday, beginning of spring or school year. Use this journal any time you feel you need a fresh start. It is never too late or too soon to change your life for the better. You are free to create your own timeline.

What is the Best Year Journal made of?

The Best Year Journal is made of 100% natural cotton fibre cover fabric, 100% recycled inner hard board cover and spine, 100% recycled inner pages and end papers. This journal has two natural cotton ribbons.

Paper used in this product is made out of 100% recycled paper. It is recyclable, compostable and FSC™ certified.

The CO2 emissions generated in the making of this paper are fully offset.

The fabric parts of this product come from all natural sources, which means they will break down in nature over time. We have removed the polyester stitching commonly used in book production to reduce the plastic used in our journals.

The packaging of the Best Year Journal is also plastic free.

Do you have a digital version of the Best Year Journal?

Yes. The Best Year Journal is also available as a downloadable product that you can use on your iPad, tablet, laptop, and phone. You can use it with an Apple pencil or any other stylus pen, too. Digitalizing our products has been highly requested by our customers over the years, hence we are very excited to offer this feature.

When you download the digital Best Year Journal, you will also get a free fillable (and printable) Habit Tracker & Monthly Goal Tracker. Go completely paperless and set measurable and mindful goals that will really make a difference and impact your life for the better.

For a more authentic journaling experience, you can can also print out the digital version of the Best Year Journal at home and use it to create a happier and more fulfilling year ahead.

Is there a difference between the physical Best Year Journal book and the digital copy?

Both the physical Best Year Jounal book and the digital copy are the same. 

The digital journal is interactive and very easy to navigate. You can type in it or write in it with a digital pen, just like you would a phsyical book.

As a bonus, the digital version has a habit tracker and monthly goal tracker included. 
Live a full life.
Leave a small footprint.
We believe we have a responsibility to craft our tools mindfully, keeping abreast of innovative natural materials, using recycled fibres, minimising carbon output, reducing end-of-life impact, and working with production partners who share our values.