An Ode to Autumn, the Season of Change and New Beginnings
by Kinga Lewandowska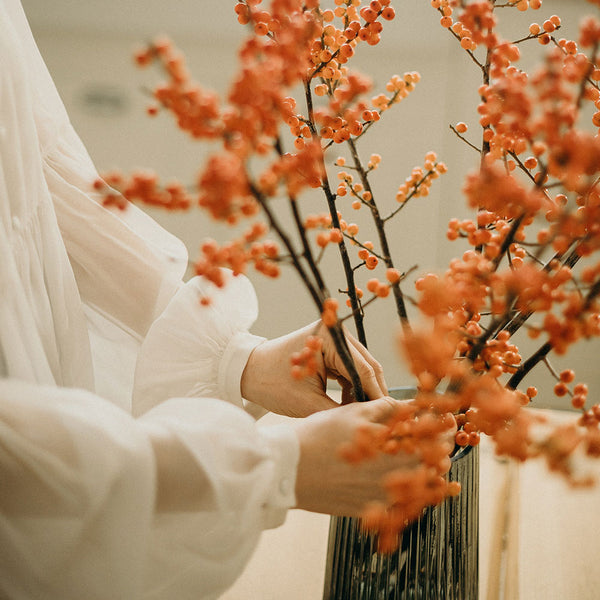 September knocks on our door and time suddenly slows down a bit. Autumn lets herself into our lives with crisper air, fresh perspective, and a few stranded leaves. As the harbinger of change and transformation, it resets our inner clocks, inspiring us to reevaluate our dreams, aspirations, goals, intentions, plans, habits, and every other element on which we build our realities. Fall is our cue to consider starting anew. Perhaps the next phase is long overdue? Trust the magic of new beginnings – such is the message of Mother Nature this particular season.
Autumn is a brilliant mindfulness teacher, spend some quality alone time with her. While anchoring us in the present moment, this season also encourages reminiscence. Look back on your life, dive into memories for a while, find what you can feel grateful for in your past. Remember when as a kid you used to jump into heaps of dry leaves in a park? How fun was that?
Along comes nostalgia, a bittersweet feeling bearing gifts ― images of days long gone. No matter our age, it always feels like forever ago. There are clues in these mental projections and our emotions tied to them. Maybe something is missing? Maybe there are still wounds left to heal? Or, perhaps, we simply need more childish enthusiasm and spontaneity in our adult lives? Autumn gives us plenty of awe-igniting opportunities for that.
Especially when it greets us with its vibrant incarnation again, with plums, pears, and shades of gold glistening in the lazy, autumnal sun. "Every leaf speaks bliss to me, fluttering from the autumn tree", wrote Emily Brontë in one of her poems. Who could resist falling in love with so much beauty? Go for a walk and take it all in while it lasts. After all, this spectacle of change and transformation will soon turn to snow.
While strolling the streets of your town, autumn will also invite you into all sorts of cozy indoor spaces. Art galleries, theatres, independent bookshops with pumpkin-filled storefronts are all too tempting this time of year. Or, perhaps, you'd like to opt for a quiet getaway on a farm where you'll be able to wrap yourself in a blanket and have deep conversations with friends by the fireplace.
When soft jazz music finds its way into coffee shops, and the compelling aroma of cinnamon tea and cardamon buns welcomes you at the door, accept this invitation, too. Pick a table and embrace the slower pace of life. Enjoy the company of your own thoughts. You will likely discover the soothing power of people-watching, one of the best methods to reduce loneliness without being forced into interaction.
Autumn means contemplation. In a reflective, unhurried state, open your notebook, pen (or keyboard) at the ready. Journaling is healing. Now is the perfect time to let out whatever holds you back to make room for a new chapter in your life. Leave your worries and heartaches on paper, or let the blinking cursor on your screen guide you. The blank page is patient and brimming with potential, confide in it. Take it up on its offer of a fresh start to your story. When your summertime sadness has a space to exist outside of you, you'll be free to turn over a new leaf (autumnal pun intended, wink).
On your way back from the coffee shop, listen to what old leaves rustling under your feet have to tell you (pick one to put in your journal as a lucky charm). Can you hear their stories about unfulfilled promises, missed opportunities, unspoken words? Pay attention to these quiet lessons, they are about embracing change and unleashing your courage. Start that project, tell that special person how you really feel, make that bold move. No wonder autumn gives us back-to-school flashbacks, it adds so much insight and sagacity into the year. Is there a better season for life-long learners?
With its shifting shades, autumn nudges us in novel directions, whispering signs of reassurance that steady transformation breeds overwhelming beauty and a wider perspective. Change is the only constant and fall carries it with style. Let this special time transform you, too. Now, in this moment, take action and set yourself on a path towards where you want to be.