Max 300 items. Cannot be combined with other offers. Need more items click here.
---
Inspiring quotes and inspired customer stories.
Use #beproductive for a chance to get featured
---
Customer Reviews
Write a Review
Ask a Question
Filter Reviews:
planner
Productivity Planner
tasks
things
quotes
goals
book
life
priorities
quality
02/03/2021
Carol M.

United States
excellent planner!
This planner has been helping me get things done, and focusing on the most important things, which I have a tendency to put off since they are the hardest. Great format and easy to use! Have recommended it to many!
03/03/2021
Intelligent Change
We are so happy to know it is helping you become more productive throughout your days, Carol!
01/03/2021
Mark F.

United States
Awesome!
I've enjoyed utilizing this planner! It's been super helpful compared to what I was doing before! Love seeing the quotes in there as well, super motivating!
02/03/2021
Intelligent Change
So glad to hear, Mark! Thank you for sharing and enjoy checking those important to-do's off your list.
03/02/2021
Carla N.

United States
AMAZING JOURNALS
I love both the Productivity journal and the Five Minute Gratitude journal because it simple to use. Productivity journal helps you think about and realize what's priority. Five Minutes Gratitude journal allows you to reflect on your day by filling in how you are grateful. I gave these journals out as Xmas gifts and everyone LOVES THEM to include me!!! I will buy again and share with others.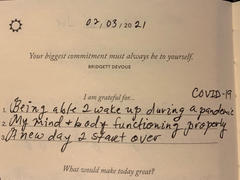 04/02/2021
Intelligent Change
Hi Carla, thank you for sharing! Yes, the Productivity Planner certainly helps put this into perspective in terms of your top priorities and the time it takes to complete them. Whereas, the Five Minute Journal gives you that quiet moment of time at the beginning and end of the day to reflect and acknowledge everything good in our lives. Thank you for your love and support.
---
Featured in
product details

Planner is undated and lasts for 6 months

100% natural cotton cover fabric

100%

recyclable and FSC™ certified paper

Made in Italy

5.8 inches x 8.3 inches / 148 mm x 210 mm 

483g / 1.06 lbs

shipping details

Economy (5-7 Business Days)
Standard (2-4 Business Days)
Express (1-2 Business Days)
International Standard (5-10 Business Days)
International Express (3-5 Business Days to Cities)

bulk orders

10+ Planners? Save 20% off. Applied automatically at checkout.
40+ Planners? Save 30% off. Applied automatically at checkout.
---
Recommended by
"The Productivity Planner has completely changed the way I work. It has helped me prioritize my life for the vital few things that are important. Before using it, often I would let my calendar and to-do list run my day and never felt like I was getting the important stuff done."
Vanessa Van Edwards
Author & Behavioral Investigator, Science of People
Productivity Planner
Helps you prioritize and get things done
Sometimes, when we do less we actually achieve more.
• Important Work Over Busywork: Task yourself with only the undertakings that will ultimately lead to your most vital goals and dreams.
• Actions Not Distractions: Work in 30 minute focused time sessions that concentrate your efforts and make more efficient use of your time.
• Always Plan to Improve: At the beginning of each week, you plan for success. At the end of each week, reflect on the results and refine your work patterns for even greater successes moving forward.
---
Each productive day at a glance.
Take an inside look at how you can make every week and day a productive one.
Frequently Asked Questions
How does the new version of The Productivity Planner differ from the previous version?

The general structure of the planner remains the same. We updated the layout design to better meet your needs and replaced The Pomodoro technique with a more flexible time-management method, The Focus Time.

We moved The Productivity Planner production from China to Italy and made sure that paper used in this product is 100% recyclable, compostable and FSC™ certified.

We updated the format of the planner – now it's A5 size, providing you with more space for notes and reflections.

To reduce the plastic used in The Productivity Planner, we changed the cover material from vegan-leather composite to 100% natural cotton fabric. We replaced the polyester ribbon with two natural cotton ribbons. We also removed the polyester stitching – the new version of the planner is unsewn, with the perfect bound spine. 

The fabric parts of the planner come from all natural sources, which means they will break down in nature over time. The CO2 emissions generated are fully offset.

What is inside The Productivity Planner?

There are 7 daily pages per week. A total of 23 weeks (115 daily pages), plus weekly planning and weekly reviews. The planner is created for 6 months.

Each page includes an inspiring quote, day of the week, space to write down important tasks of the day, time tracking, productivity score and a room for notes.

Please note that The Productivity Planner does not include a calendar, but has weekly planning and weekly review pages. 

The Productivity Planner's main purpose is to help you accomplish your most important tasks of the week, thus its structure is not just another to-do list that is neatly organized.

What is The Productivity Planner made of?

Paper used in The Productivity Planner is 100% recyclable, compostable and FSC™ certified.

Inner pages of the planner are made of 100% recycled, carbon neutral, FSC™ certified paper from Favini Italy.

The cover of the planner is made of 100% cotton fabric, coated with acrylic resin and featuring recyclable gold foil embossed details.

How long does The Productivity Planner last for?

It is created for 6 months of planning.

What is The Focus Time technique?

The Focus Time technique is one of the simplest time-management methods that could change your life completely – it allows you to work uninterruptedly on a task in 30-minute increments and then have a mindful five-minute break. 

We created The Focus Time technique to give you more flexibility to pause the timer when those unavoidable distractions occur, deal with the issue, then re-start the timer and re-focus on your chosen task.

Read

this article

from our blog to discover how to make

The Focus Time

technique work for you.

Do you offer a discount for bulk orders?

10+ Journals or Planners? Save 20% Applied automatically at checkout or use code save-20

40+ Journals or Planners? Save 30% Applied automatically at checkout or use code save-30

If you are interested in ordering 300+ journals/planners get in touch here.
---