Intelligent Change: Mindful Gift Guide
by Natalie Theodosi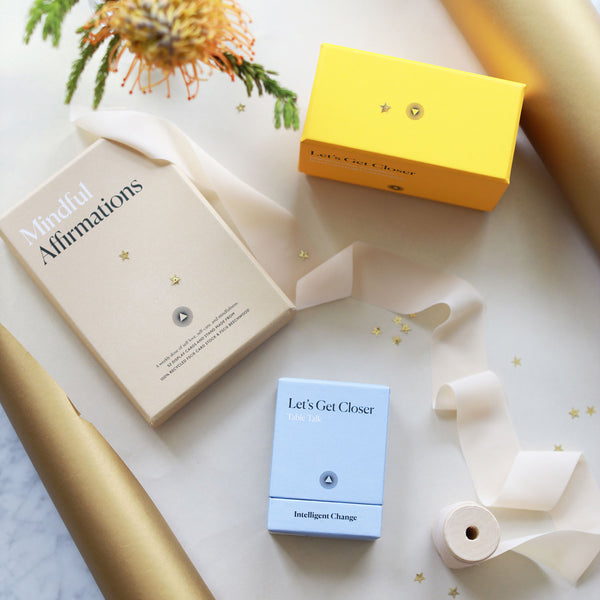 The festive season always means plenty of social gatherings and gift exchanging. The spirit of giving and generosity is at the heart of the holiday period—but, at times, there's also a tendency to take things to an extreme by buying too much or simply shopping for the sake of it.
It's easy to get carried away with the abundance of shiny ads, sales, 'new in' items flooding our inboxes, or the social pressure to attend every festive party with impressive gifts for the hosts. But we don't have to overindulge or over consume just because it's the holidays. Holidays can be mindful, and you can still enjoy yourself and treat your loved ones, while staying true to a more conscious, sustainable lifestyle.
What does this mean in practical terms? It means spending the holidays on your own terms and doing what feels more authentic and genuine to you, instead of getting consumed by shopping too much, going out too much, or overindulging in sugar, drinks, and late nights.
If having a healthy lifestyle and diet is your priority, you can still enjoy festive parties and say no to "just one more drink" or "just a bite of candy." Similarly, if you are working towards certain financial goals or committing to be mindful of your consumption habits, the festive season is the great opportunity to reconsider your approach to gift shopping, especially when our habits are having a direct impact on the planet and exacerbating the issue of climate change.
There's a responsibility on everyone's part to consume more mindfully and sustainably. When it comes to gift shopping, this means buying products that are ethically and responsibly made and would actually make the difference. Instead of the usual fashion or beauty purchases (that might or might not suit the receiver), start thinking outside the box this year and choose items which go beyond aesthetics and have the potential to bring value and impact your loved ones' overall lifestyle.
---
Here are some suggestions that go with the mindful lifestyle Intelligent Change lives by:
For New Home-Owners:
If you have friends who are moving house, get them something they can display in their new space and has a deeper, positive meaning. The Choose Gratitude print is just that: a sleek black and white letterpress poster that can suit any design aesthetic and shares a valuable message about being grateful and embracing the present moment. These are the words and reminders to live by.
Every time your friends look up at their wall, they will be getting positive reinforcement thanks to you. This poster is also ethically made using recycled fibers and FSC certified paper.
---
For Creatives:
Any design or art lover in your circle would surely appreciate the Life is Right Now book filled with joyful, feel-good word art and moving beautiful illustrations by Los-Angeles artist Real Fun, Wow! (Daren Thomas Magee). Not only does the hardcover book with gold foil sun on it look great when displayed on a coffee table, it also creates a space for a deeper reflection on life and brings a smile to the face of anyone flicking through it and needing a jolt of encouragement to move forward.
---
For New Parents:
Instead of buying more toys for the children in your life––most of which are made of harmful plastic materials––you can gift them the Five Minute Journal for Kids which will introduce them to the concept of gratitude from their early years and help them wire their brains to appreciate every blessing, both big and small, in their lives.
If you are looking for a bigger gift, you can also buy the adult version of the gratitude journal, encouraging your loved ones to create positive rituals by practicing gratitude as a family.
Want to add an extra touch and give your nephews or your friend's daughter a book with purpose, something that connects the whole family in a mindful reading ritual? Consider getting the I am Grateful book, filled with heart-warm illustrations and kind gratitude messages. Let it guide that special little soul in your life on a magical journey to happiness.
---
For Busy Bees:
We all have that friend who is always traveling the world, working on another creative project, overbooking their schedule, and, perhaps, neglecting self-care time. Give them a push in a new direction and encourage them to prioritize what's truly important by gifting them a Productivity Planner and introducing them to the art of smart planning.
The planner will also help them adopt the Mindful Focus time-blocking technique, which is all about eliminating distractions and entering the flow state by using the timeless tool––an hourglass.
---
For the Host:
For the friend or family member who loves to host dinners, movie nights, and weekend brunches at their home, offer them new Table Talk or Let's Get Closer games. It will surely help them keep their guests entertained in the most meaningful way, as both games involve decks of prompt cards, each asking a deep, powerful question about one's life or personal experiences. The ultimate aim? To spark meaningful, honest conversations around the room and help guests open up, connect in an entertaining way, and truly get to know each other.
If you are attending a party with close friends, opt for the Table Talk game which mixes in questions of different levels of intimacy. If you are going to a bigger event with new acquaintances, we'd recommend the Let's Get Closer conversational game, which allows you to choose between different stages of intimacy, from close, to closer and closest.
---
For the Friend Going Through Transition:
If you have someone in your life who is undergoing a big transition—anything from breakup, a move to a new country, a new career path, or a lifestyle change—give them The Best Year Journal.This yearly planner is a mindfully curated and structured guide to a more fulfilling year ahead. It's designed to review the past year and let go of what holds you back, set authentic goals, create a clear action plan, keep track of your progress, and balance personal and professional commitments.
This is one of the most universal, value-adding, and life-changing gifts. Anyone and everyone can benefit from planning their year this way, while those going through a high-pressure period or drastic transition will find it even more rewarding, as they unlock their purpose and prepare for a new phase in their lives with intention.
---
For Anyone on a Budget:
You can still offer your loved ones a meaningful gift, even if you're on a budget—at the end of the day, what counts is being financially smart and staying on track with your goals, rather than overindulging on gifts you can't afford.
The Productivity Sheets are one of the most affordable items within the Intelligent Change range, yet they can still have a huge impact on someone's life by helping them structure hectic work days, set intentions, and alleviate anxiety.
Following a similar format of The Productivity Planner, these tear-out sheets encourage you to stay focused on the important tasks of the day, be inspired by the daily quotes, and never lose sight of important goals and targets. A seemingly simple product that will still add value in anyone's life, helping them take full control of their schedule, priorities, and progress.
Five Minute Mindful Focus Hourglass is another timeless and affordable tool that can make a difference in your loved one's life. These five minutes help make time for what's important and engage in mindful, uninterrupted activities like meditating, journaling, relaxing, and taking a much-needed break in between hectic tasks.
Mindful Focus hourglass embodies both simple design and functionality. It can be used for focused time sessions, short breaks, or simply enjoyed as a design object that makes an eye-catching centerpiece in any space.
---