These focused minutes may just
change your life.
1. Think of the task you need to finish or something you have been meaning to do, something you care about, but haven't been able to find time for.
2. Turn the timer over and spend the next minutes focusing on your chosen task or activity.
3. Repeat as necessary. Use your Mindful Focus any time you feel like you could use a moment to truly focus or you desire a moment of breathing space in your day.
Inspiring quotes and inspired customer stories.
Use #intelligentchange for a chance to get featured
Modern, sophisticated, and versatile design.
This Mindful Focus hourglass embodies both simple design and functionality. You can use it for focused time sessions, short breaks, or simply enjoy it as a design object that makes an eye-catching centerpiece in any space.
You may be interested in
These best-selling and top-rated tools will help you unleash your full potential and turn your dreams into reality.
Shop best sellers
Some of the lives we have guided toward positive change.
Customer Reviews
Write a Review
Ask a Question
Filter Reviews:
hourglass
Productivity Planner
piece
tasks
design
purchase
sand
things
life
work
15/06/2022
Anna P.

Austria
So beautiful
It's such a beautiful hourglass and has a really calming effect on me when I look at or focus on it. Amazing piece!
15/06/2022
Intelligent Change
Thank you for sharing, dear Anna. May you continue to enjoy the peace it brings to you.
15/05/2022
Chris T.

United States
Lovely Design & Mindful Exercise
An hourglass is such a simple tool.. but when used alongside a Productivity Planner, or when used to help build new routines, is such a beautiful piece to own. I use it every day to block time for myself to read and stay on track.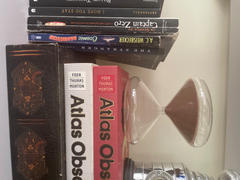 15/05/2022
Intelligent Change
We're so thankful you're finding so much value in the hourglass. Have a lovely journey ahead with it, Chris!
10/04/2022
Jonathan K.

Canada
Simply awesome!
I love its elegant design and I use it every day alongside the productivity planner and when I just need to get into flow with a specific task.
13/04/2022
Intelligent Change
We're so happy to hear that you've found great use out of it, Jonathon. Have a productive journey ahead!
Frequently Asked Questions
What is the Mindful Focus made of and where is it made?

The Mindful Focus hourglass is made of virgin glass and synthetically created "sand", made of glass beads. The glass beads are created by applying a high temperature to glass, allowing the "sand" to flow at a constant rate through the timer.

No chemicals were used to clean the sand. The sand is toner dyed to have a brown color.

The Mindful Focus is made in China and is packaged in 100% recycled printed Kraft packaging board.

What can I use the Mindful Focus for?

The Intelligent Change Mindful Focus is a beautifully designed functional piece of art to give you a visual of 30 minutes of time to complete a task or do something that's truly important to you.

Here are some of our favourite ways to use this beautiful timer:

– For the Productivity Planner focused time intervals;
– Meditation time;
– Self-care time;
– Time on a phone call to someone special;
– Home-schooling timer for kids;
– Work out or yoga time;
– Time to read a book;
– Time to be present with your loved ones (flip it a few times here);
– Dedicated time to use your phone/tablet before bed, then put it away;
– Just flip it because it's beautiful and relaxing to watch.

Given its simplicity, elegance and functionality, Mindful Focus can be simply enjoyed as a design object that speaks to the passage of time and makes an eye-catching centerpiece in any space, from home offices to living rooms.

Have some other good ideas? Share them with us on Instagram and tag @intelligentchange. We'd love to see!

How should I clean the glass of Mindful Focus?

To clean the hourglass, we suggest to use a glass cleaner with a cloth of choice to wipe it down.

If you do not have a glass cleaner, you can make your own with 1 part hot water to 1 part distilled vinegar and add it to a spray bottle.
Live a full life.
Leave a small footprint.
We believe we have a responsibility to craft our tools mindfully, keeping abreast of innovative natural materials, using recycled fibres, minimising carbon output, reducing end-of-life impact, and working with production partners who share our values.