Limited time only. Max 300 items. Cannot be combined with other offers. Need more items? Click here.
---
---
Some of the lives we have guided toward positive change.
Customer Reviews
Write a Review
Ask a Question
Filter Reviews:
decor
hourglass
bedroom
office
sand
color
shimmer
concentration
touch
anything
02/06/2021
Felicity J.

Australia
Focus Timer Hourglass
Love it - oh and by the way it does keep to 30minutes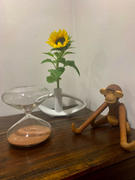 05/06/2021
Intelligent Change
Such a beautiful photo. Happy to know you love it!
02/06/2021
DONALD W.

United States
Not a must have - set a timer on your phone
Haven't used it much. Also its pretty large, as in hard to keep on a small desk.
01/06/2021
Keerthana E.

United Kingdom
Seemed delicate and broke easily :(
I was a bit disappointed because it seemed quite delicate to handle and I was cautious whenever I turned over and placed it - which is not a good experience to be in fear i think? then my water bottle slided on the hourglass and it broke :'(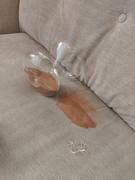 ---
Featured in
product details

Limited Edition (only 2000 pieces available)
Hourglass length: 30 minutes

Made of glass

Sand created from glass beads

100% recycled printed packaging

6.3 inch x 5.5 inch/160 mm x 140mm

0.85 lbs/389g

shipping details

Economy (5-7 Business Days)
Standard (2-4 Business Days)
Express (1-2 Business Days)
International Standard (5-10 Business Days)
International Express (3-5 Business Days to Cities)

bulk orders

10+ timers? Save 20% off. Applied automatically at checkout or use code save-20
40+ timers? Save 30% off. Applied automatically at checkout or use code save-30
---
Recommended by
"Life can often pull us in many directions, having us bounce between one distraction to the next. This is why we've created the Mindful Focus hourglass–to help you make time for what's important."
Alex Ikonn
Co-Founder of Intelligent Change
Mindful Focus

30 minutes that may just change your life
The Mindful Focus helps you make time for what's truly important.
1. Think of the task you need to finish or something you have been meaning to do but haven't been able to dedicate the time to.
2. Turn the timer over and spend the next 30 minutes focusing on your chosen task and only that task.
3. Repeat as necessary. Use your Mindful Focus any time you feel like you could use a moment to truly focus.
---
Modern, sophisticated and versatile design.
This limited edition Mindful Focus hourglass embodies both simple design and functionality. You can use it for focused time sessions, or enjoy it as a design object that makes an eye-catching centerpiece in any space.
Frequently Asked Questions
What is the Mindful Focus made of and where is it made?

The Mindful Focus hourglass is made of virgin glass and synthetically created "sand", made of glass beads. The glass beads are created by applying a high temperature to glass, allowing the "sand" to flow at a constant rate through the timer.

No chemicals were used to clean the sand. The sand is toner dyed to have a brown color.

The Mindful Focus is made in China and is packaged in 100% recycled printed Kraft packaging board.

What can I use the Mindful Focus for?

The Intelligent Change Mindful Focus is a beautifully designed functional piece of art to give you a visual of 30 minutes of time to complete a task or do something that's truly important to you.

Here are some of our favourite ways to use this beautiful timer:

– For the Productivity Planner focused time intervals;
– Meditation time;
– Self-care time;
– Time on a phone call to someone special;
– Home-schooling timer for kids;
– Work out or yoga time;
– Time to read a book;
– Time to be present with your loved ones (flip it a few times here);
– Dedicated time to use your phone/tablet before bed, then put it away;
– Just flip it because it's beautiful and relaxing to watch.

Given its simplicity, elegance and functionality, Mindful Focus can be simply enjoyed as a design object that speaks to the passage of time and makes an eye-catching centerpiece in any space, from home offices to living rooms.

Have some other good ideas? Share them with us on Instagram and tag @intelligentchange. We'd love to see!

What is the size and weight of the Mindful Focus Hourglass?

The size of the Mindful Focus is 160mm x 140 mm (6.3 inches x 5.5 inches). The weight of the timer is 389g (0.85 lbs).

The hourglass comes in a custom designed box made from 100% recycled printed Kraft board. Packaging dimensions are 177.8 mm x 193.68mm (7 inches x 7.6 inches), and the total weight of the Mindful Focus with box is 741g (1.53 lbs).

The Mindful Focus packaging has successfully passed several drop tests.

 

How should I clean the glass of Mindful Focus?

To clean the hourglass, we suggest to use a glass cleaner with a cloth of choice to wipe it down.

If you do not have a glass cleaner, you can make your own with 1 part hot water to 1 part distilled vinegar and add it to a spray bottle.
---